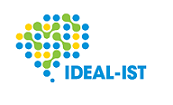 Welcome to the Ideal-ist Topic Tree!
The Topic Tree is a visual tool illustrating connections between closed, open and forthcoming Horizon 2020 topics related to ICT. It helps you to identify historical and future links to call topics and offers you background information provided by Ideal-ist and EC Participant Portal.

You can customise the Topic Tree view using controls on the left-hand side. The panel on the right-hand side displays basic information related to chosen topics.
v.0.11.9 PUBLIC